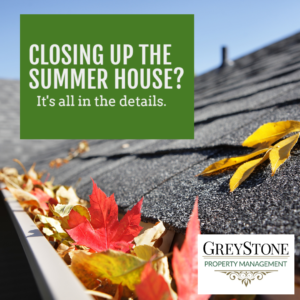 The shorter days and cooler evenings tell us that autumn leaves will soon be falling and it will truly be time to close up the vacation home for another season. If there are plans to use it on weekends through the winter, or even offer it as a winter rental, then a full scale winterization is not necessary, but every property needs some attention to be ready for the harsher elements winter on the East End will inevitably bring.
Some tasks are obviously needed, such as closing the pool and tidying up the area surrounding it. It's time to pack up the lawn furniture and outdoor decoration and structures, first to protect it from the elements, but also to protect the property from damage that may be caused by blowing debris. And then the outdoor grilling area should receive attention too. Clean the grill, stow away utensils and disconnect the gas, then cover it up to keep it safe from the elements too.
The change of seasons is an ideal time to take care of some maintenance chores too. Clean out the gutters, basement window wells, check trees for any branches that could potentially fall in the next big blow, and make sure heating vents are clear too. Now is the time to call in the burner service company to clean the heating system and make sure everything runs properly and without obstructions.
Also, if you are closing the house up completely for the off-season, then draining the water system is essential. Burst pipes can require costly plumbing repairs and even destroy a house.
This is a time for the deep cleaning too. A thorough cleaning from top to bottom will help prevent issues with mold and mildew, and the dreaded infestation of insects and critters looking for a warm dry place to spend the winter. Vacuum the mattresses and furniture, steam clean the carpets and drapes, and scrub down the bathrooms.
Whew! That's quite a list, isn't it? And it seems like it's the last thing you want to do while you are enjoying the last days at the country house. You may want to consider calling on the services of a property manager. If you own several properties, then hiring a property manager is a must if you want to properly protect your investment.
A property manager will corral all these tasks, find the right contractors to handle them, and most importantly, give you peace of mind that everything is done. The property manager becomes your eyes and ears right on site, so you don't find any unpleasant surprises when you make an off-season visit.
Additionally, if you are planning to offer it as a winter rental, you have someone local who can respond immediately to calls for repairs or other tenant concerns, while also making regular visits and inspections to assure everything is in good order. Of course, GreyStone Property Management has an extensive portfolio of residential and commercial properties, with decades of experience managing all aspects of real estate investment. And we have the local contacts and network that allows us to respond promptly to an unforeseen matter that may arise, too.
But no matter what property management company you choose, we highly recommend that you hire one. It's one of the smartest investments you can make in protecting your investment property.
Contact the GreyStone Property Management team to discuss the services we provide.