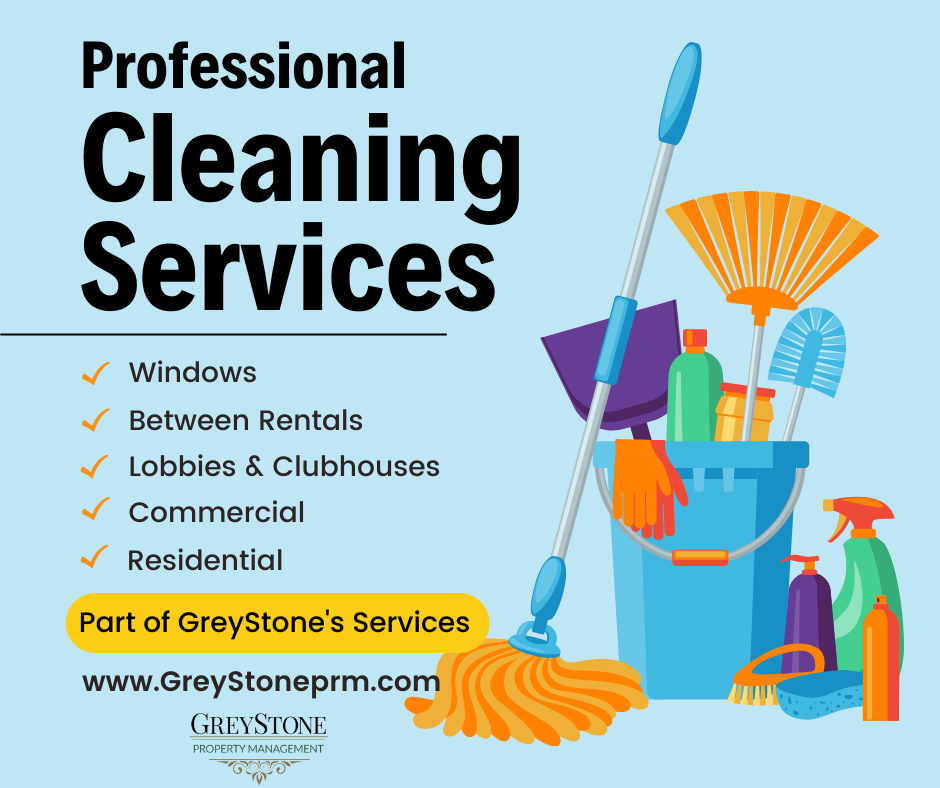 Have you found that keeping up with the housework on your investment property is a bigger task chore than you anticipated?  It seems that something always needs attention. A scuffed floor there, mildew growing in the shower, and where do those fingerprints on the window come from?
Whether your investment is a second home intended for rental income, or you are head of a condo board or homeowner association, keeping everything clean, tidy and presentable is a full time job. And finding someone professional and reliable to handle the housekeeping is not an easy task. Fortunately, GreyStone Property Management has developed a list of trustworthy, professional cleaners who will get your spaces clean and keep them that way.
For rental turnovers, we will perform a full top to bottom cleaning to clear out the clutter left by the former tenant, along with sanitizing the kitchen and bathrooms, and freshening up the furniture. To avoid letting the housekeeping get out of hand while the tenants are in residence, we can arrange for regular cleaning service during lease period.
And yes, we do windows, too! In our seaside rural location, it doesn't take long for the weather to leave a film of dust, pollen and even sea spray for those close to the waterside. Windows are a wonderful way to bring the outside in, especially if your property has sweeping scenic vistas of farmland, seascapes or even wildlife habitat. Our window cleaners will keep them clean and clear.
For condo complexes, properties managed by HOAs, and other commercial properties, GreyStone will call in teams to provide custodial services in the lobbies and clubhouses. These public spaces are where your property makes its first impression to visitors and new potential residents, so extra attention there will enhance the perceived value of your entire property.
Also, by providing a single contractor to perform the residential cleaning, you can be assured that the level of service remains consistent – yet another place to protect the property value.
The professionals at GreyStone Property Management understand just how important it is to pay attention to every detail in order to protect and enhance the return on your investment. We make good housekeeping a priority to avoid higher maintenance costs down the road.