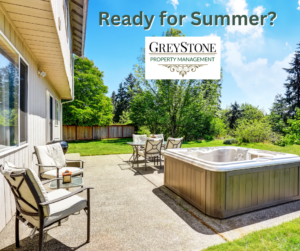 With Memorial Day weekend just around the corner, it's time to start thinking about getting your residential property ready for the summer season. Whether you're a homeowner preparing your own vacation home or a landlord getting a rental property in top shape, Greystone Property Management is here to help. As a boutique property management company in the Hamptons and North Fork areas, we offer a wide range of services to ensure your property is in perfect condition for the upcoming season.
One of the essential services offered by Greystone Property Management is residential house watching. If you're away for an extended period or simply want peace of mind, their team can regularly inspect your property, ensuring everything is secure and well-maintained. They also provide handyman services, so any repairs or maintenance tasks can be taken care of promptly.
When it comes to preparing the interior of your property, Greystone Property Management offers professional cleaning services. From deep cleaning carpets and upholstery to sanitizing bathrooms and kitchens, their experienced cleaners will leave your home looking fresh and inviting. Additionally, they provide dryer vent cleaning services, ensuring the safety and efficiency of your laundry appliances.
For the exterior of your property, Greystone Property Management offers painting services to give your home a vibrant and attractive look. They also provide gutter cleaning, essential for maintaining proper drainage and preventing water damage. By addressing these maintenance tasks before the summer season, you can ensure your property is both aesthetically pleasing and protected from potential issues.
If you're a landlord preparing your rental property for the summer, Greystone Property Management can handle all the necessary tasks. From coordinating tenant turnovers to conducting thorough inspections and repairs, they ensure a smooth transition between tenants. They also offer comprehensive property management services throughout the rental period, handling tenant selection, rent collection, and any maintenance requests that may arise.
With Greystone Property Management's expertise and range of services, getting your residential property ready for the summer season has never been easier. Contact us to discuss the services you need. Make the most of Memorial Day weekend and the summer season knowing your property is in capable hands.